It can be so much fun buying gifts for your Outdoor Enthusiast.  I have provided you with awesome ideas for unique camping gifts that will be a huge hit!  Having what you need in camp can truly make a difference in the overall experience.
Want to make your loved ones feel like a Super Star at Camp?  Present them with a personalized camping chair and see their face light up like the night sky.  People love seeing their name and even more so when they are in Nature.  Give them their own little space and a place to kick it after a nice long hike or swim in the lake.  Having their very own monogrammed chair will keep them smiling and happy the entire time.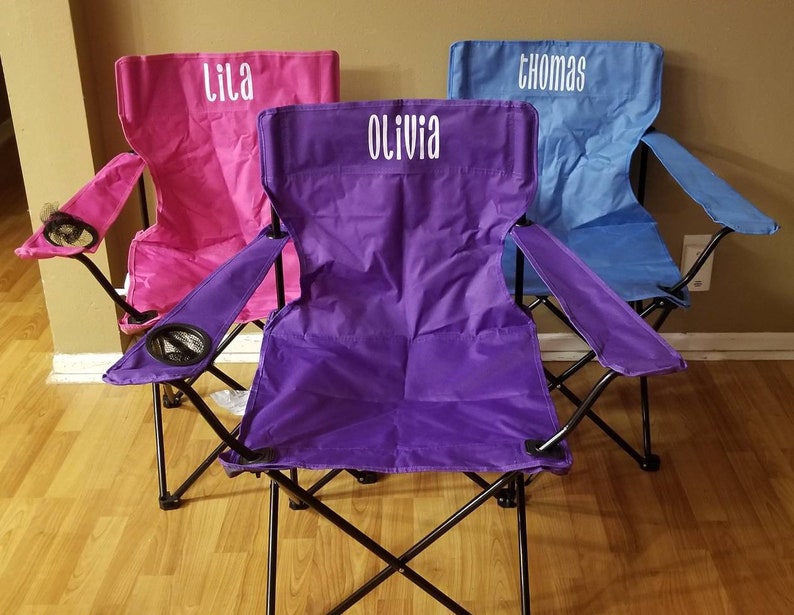 Where to purchase:   Etsy
Important to know: 
Weight Limit: 225 lbs
Brand: Academy Logo
Built in Cup Holders
Steel Frame
The Cost: $25.00
Reviews: 5 Stars!
Not so awesome:  This seller indicates this chair is not as sturdy for adults (even though the weight limit is 225 Lbs)
Thanks Honey for this beautiful camping toilet!  Says no one ever….  Perhaps you have never thought about giving someone a camping toilet for a gift, but let me tell you- it is one of my favorite camping items. This piece of camping equipment is geared towards those who are staying in a tent.
If you don't like to get up during the middle of the night (and literally freeze your butt off), then this makes the perfect gift for yourself!  This works best for going number #1 of course because you don't want to stink up the tent.  I love to camp- and this toilet makes it so much better. It is convenient when I wake up at 2am to go potty.   My kids love this too because they get freaked out at night.  You also don't have to hear the tent zip and unzip all night either.
This situation works best if your loved ones are sleeping and you feel comfortable going pee with others in the tent.   You could park it right outside your tent as well so you don't have as long of a stumble through the woods to get to the "bathroom".   This toilet also works well for hunting or fishing expeditions- it could be the official man toilet.  (Okay- don't visualize this).
Self-disclosure:  If you take the Loo in front of a vehicle (when you're camping during the day), make sure you move it before getting in the vehicle.  (Yes, I ran it over)
Where to purchase:  Amazon
Important to know:
Works with the standard double doodle bag
Length: 13.50 width: 13.00 height: 15.56
Easy to carry: 3.00lbs
Reasonably priced (well worth it in my humble opinion)
(20-liter) capacity
Traditional snap-on lid
Clean up is easy: waste compacts into a sealable bag
The Cost:  $38.15
Not so Awesome:  The one and two star reviews related to the lid having a poor design and not fitting well.
The Loo Review:
Favorite Luggable Loo Q & A: 
Q: Is it "comfortable enough" to sit on for an hour?
A: No. I've never seen any toilet comfortable enough to sit on for an hour. If you're needing to sit on it for an hour, you may want to see a doctor.
Have a friend or family member that loves to read?  You have a couple of options here- give them a book on camping (if they are a How To Nerd like me) or books they will like to read while camping.  If you give a How To Book, this will encourage your gift receiver to adequately prepare and be well organized for your trip.  Always a plus- so when you get to camp you're not missing essential items like a cooking pot (And no- of course I've never done this).
Having a book in camp can be one of the most enjoyable activities-especially if you read in a hammock or next to a river or lake.     When you give a book as a gift- you are telling that person to take some time out for themselves and to relax.
Where to purchase:  Amazon
Book:  How to Camp Out -Advice from a Civil War Veteran
Important to know:
Available in hardback, paper, or Kindle
Written by an author who has literally been in the Trenches
Small enough to carry while backpacking
Contains practical and timeless information
The Cost:  Hardcover-$26.74   & Paperback-$5.25
Not so Awesome:  This book is a bit dated-for example it talks about the necessary length of a woman's skirt.  The one and two stars relate to the book being useless and that it seems the content was computer generated.
Thank Heavens us women don't have the societal norm to wear skirts camping anymore!  I added more books below, but I highlighted this one because I find it fascinating that this gentleman recognized during this time frame that people were starting to go camping.  I think wanting to get into nature is innate in all of us.  The more we are surrounded by concrete, the more we need the beautiful green spaces.
Reviews:
Favorite Quote from the Book: ""They say that a little gunpowder flashed in the tent will drive out flies and mosquitoes. I saw a man try it once, but noticed that he himself went out in a great hurry, while the flies, if they went out at all, were back again before he was." Ah, those were the days! 🙂
Who doesn't love receiving T-shirts as a gift?  My mind automatically goes to personalized whenever possible.  This shows that you have put in more thought, time and energy into the gift; You can't just decide this at the last minute and then be able to give this.
Depending on the weather of course (and the number of mosquitos), it's super comfy to be in camp in a T-shirt.  They keep you cool and you'll look great.
Personalized T's while camping can be a lot of fun too- get matching ones for you and your significant other or for your entire family.  If you have a bunch of little ones running around perhaps you want to buy them each a T-shirt with Bright Neon Colors to keep track of them.
Where to purchase:  Etsy
Important to know:
Handmade
Material is cotton
Made to order
Relaxed fit with tapered sides
The Cost: $21.22
Not so Awesome:  I couldn't find one negative review. One lady mentioned that the sleeves weren't rolled up like in the picture.  Of course they wouldn't be!
Reviews:  
Favorite Review: 
"Love both of my shirts" – Sarah Fraley
A keyword search on this brought up over 8000 searches.  I never realized how popular personalized water bottles are- see, just goes to show you how much people love their name.
I realize that some may be leary about taking a glass water bottle camping, but they do have a sleeves you can purchase as well. I love drinking from glass because the water tastes so much better to me.
Where to purchase:  Etsy
Important to know:
Made to order
Materials: Glass and Vinyl
Comes with a strap
The Cost: $10.00
Not so Awesome:  I couldn't find one negative review on these glass bottles.
Reviews:  
Favorite Question/Review: 
This was for a gift! Recipient loves!!!! Fast turnaround! Thank you! – Taylor
This camp heater is not only for the ladies.  I know several hunters that use heaters in their tents. Of course you need to be very careful and take caution when using it.  Make sure you don't fall asleep with this heater on- and that you have excellent ventilation.  If you have a loved one that is cold blooded and the lower temps can keep them from camping, then this gift is a must.
Where to purchase: Amazon
Important to know:
Can use for indoor or outdoor
4,000- to 9,000-BTU radiant heater for spaces up to 200 square feet
Auto shuts off if heater is tipped over or if low oxygen is detected.
Handle folds down, swivel out regulator
The Cost: $78.29
Not so Awesome:  The one and two star reviews for this heater indicate the plastic was breaking and the parts falling off.
Reviews:
CAUTION:  Do not use unauthorized accessories/attachments with this heater- could cause serious injury
Favorite Amazon Q & A:
Q: Is this sensitive to movement? If used on a boat would gentle waves shut it off?
A: It will shut off with any slight bump. The golf cart heater will handle much rougher conditions if it will work in your situation
– Curtis P
Patagonia is a company that I truly believe in.  The founder, Yvon Chouinard, started climbing at the age of 14.  His company has remained very profitable since the beginning and they are a Philanthropic company.  His book, "Let My People Go Surfing" has recently been updated for it's 10th Anniversary.  Patagonia also contributes $100,000 annually to the Conservation Alliance.
Aside from the fact this is an amazing company- your guy will look hot in any of the Patagonia Clothing.
Clothing: Patagonia Men's Better Sweater Jacket
Where to purchase:  Amazon
Important to know:
Made of 100% bluesign Polyester
Dyed with a process that drastically reduces dyes, energy, and water used.
Raglan Sleeves- Comfortable and Wicks the Sweat away.
The Cost: $181.53 – $229.95
Not so Awesome:  The one stars on here stated that the product did not ship and that the Patagonia Patch was crooked.
Reviews:  
Favorite Amazon Review: 
"Just gave it to my husband for his birthday and it looks good, fits as expected. He's happy, I'm happy!"
Robyn W
Reflecting in nature can be extremely therapeutic for the soul. If you have a loved one that is creative, likes to write, and is a deep thinker then this could be the perfect gift for them. I personally journal every single morning- and I love to write outdoors even more.  The fresh air breathes life into words and inspires tremendous creativity and imagination.  This is an excellent gift for Adults or Children.
Where to purchase:  Amazon
Important to know:
Available in a Hardcover
Prompting pages: details on location, attractions, what not to do next time, etc.
Space for photos
Back cover Pocket for Notes, cards, etc
Adorable red and black check design
The Cost: $9.30
Not so Awesome: One of the 3 star reviews said they wished there were more pages to record the details.
Reviews:
Favorite 3 Star Review Quote:
"This was a gift. I suppose she is enjoying it"
Not all ladies are comfortable going bare face while they are camping.  I know I always wear at least foundation and mascara on my camping trips.  This case will make it easier for your girlfriend or wife to take their make up along.
Where to purchase:  Amazon
Important to know:
Portable and lightweight
Perfect travel bag for lipstick, brushes, eyeshadows, foundations, and blush
Adjustable foam padded dividers (Can get ready quickly and look fab in no time)
Made with 1680D Nylon to last for years
Make up is not included (bummer)!
The Cost: $19.99
Reviews:  
Not so Awesome:  The three star review noted that the item was flimsy.
Favorite Review/Quote:
"Very happy with this purchase. Excellent storage space. Made well".
Sharlev
This little tool will give you MacGyver Abilities. Even better than duct tape, the handsome hunk in your life can do all sorts of stuff with this knife.  I've given this as a gift before and you would have thought they received a Rolex Watch.  Men love this kind of stuff- right guys?
Where to Purchase: Amazon
Important to Know:
Has 15 different functions -corkscrew, bottle opener with screwdriver, wood saw and scissors to name a few.

Made of Stainless steel -encased in polished red ABS scales 

Compact design -perfect knife for any outdoor activity including camping, fishing, or hiking
The Cost: $31.95
Reviews:
Not so Awesome:
The one and two star reviews indicate the knife was scratched and other person said that the knife had been used before. Eww…
Favorite Question:
A: 
I'm sure it can cut a seat belt. It doesn't have a glass breaker on it. It is a great knife though.  -Gil
In conclusion:
So there you have it- Ten Unique Camping Gifts that will be sure to make any of your friends or family happy.  What have been some of your favorite outdoor gifts?  Please drop us a comment below.
Happy Camping!